Runyard's 1951 Willys Project Page
---
 My Willys Wagon Project Page.
A Looong Term Project, Starting August 1998
( Well, not to long I hope! ).

1951 Willys Station Wagon.

This vehicle belonged to Roy Graser, neighbor of mine for the past 40+  years.
I remember riding in it when I was a kid ( in the 60's ). But it has been sitting
outside for the past 30+ years, and has a bit of rust, or should say the rust has a
bit of steel. Although it has not been started in the past 24~ years, this is going to be a
great project car,  ( if it doesn't collapse from rusting away before it's completed ! )
It would also be a great learning experience for my 15 year old son,
if I can get him off the computer, to see how things are done
and how it works.


Rust Bucket.
With holes clear through the
upper body, floor and pinholes everywhere else.
This will be my greatest challenge. This wagon was already converted to a
Chevrolet 283 V-8 in the early 60's, along with a 12 volt charging system.

Major work ahead: Brakes, and rust ( Oh the rust. I have swept up 10 lbs
of it from the garage floor, from just starting the engine).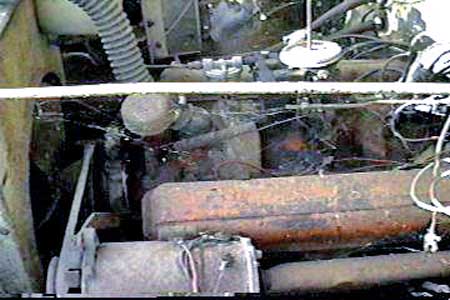 Here shown complete with rust and spider webs.
The engine will be the easy part. ( I think ).
Roy did a beautiful job on hand making the fan shroud.
---
| | |
| --- | --- |
| | |
| The Start: Sept. 1999 | as of 2010 |
Willys start. ( Sept. 99 ) Well it took a year to bring the Willys home, but
the work is now started. The moss was thick and even had lichen growing on the roof
from sitting in the moist Huntington Beach air. The engine was brought back to life
after 20+ years since it last ran. Fresh gas, new water pump, hoses, rear main seal,
carburetor kit, plug wires and now purrs like a kitten. I removed the 12 volt generator
and modified the bracket to fit a 1970's GM alternator.
Next step: Brake system. New wheel cylinders, master cylinder. on order.
Looks like brake lines will need replacing too. ( Everything you touch
leads to something else ). Wish me luck.

See the following pages, dealing with 3,000 lbs of rust and the Final results.
 


RIP Roy Graser, 1923-2010


Roy was an old neighbor of mine,
and previous owner of this Willys. He got it from
his sister, who purchased it brand new.
I've known him all my life. The hours
I spent watching him work on his Willys
Jeeps, it sure did rub off on me.
I'm very lucky to have had him as a friend and mentor.

Project for 2011. I purchased Roy's 1950 Willys CJ3A from Roy's family in Nov of 2010.
But life changes over the next three years had knocked the wind out of my sails.
I'm fine, but have lost many family members during this time. Stuff happens.
The 50 was sold in 2014, but still have Roy's 51 wagon.


I would love to hear your comments. Email John
More Restoration Pages ahead...     NEXT           You are on Project Page 1